About this course
Art of the Comic Book is a goal-orientated, college-level studio workshop for making comics with traditional ink-on-paper media. Exercises are based on real-world assignments. Fundamental comic book media techniques include storytelling, character design, working with scripts, hand lettering, inking with brushes and dip pens, figure drawing, sketchbook practice and group critiques. Technical elements include ruling pens and perspective drawing. Study the comic book industry's current production methods, business environment and history.
Your goals
When you have completed this course you should be able to do the following:
Have a historically-based vocabulary and techniques of comics story-telling
Understand how these techniques should be used
Use basic media techniques and materials
Understand fundamentals of sequential storytelling
Apply anatomy, drafting, perspective, page layout, composition, panel arrangement
Tell a variety of stories in a clear and interesting manner
Develop creative solutions to unanticipated problems
Draw on solutions by historical and contemporary artists
Work in solo and collaborative projects
Objectively critique your work, as well as the work of others
Use currrent digital and traditional production techniques
Be aware of professional opportunities and presenting your work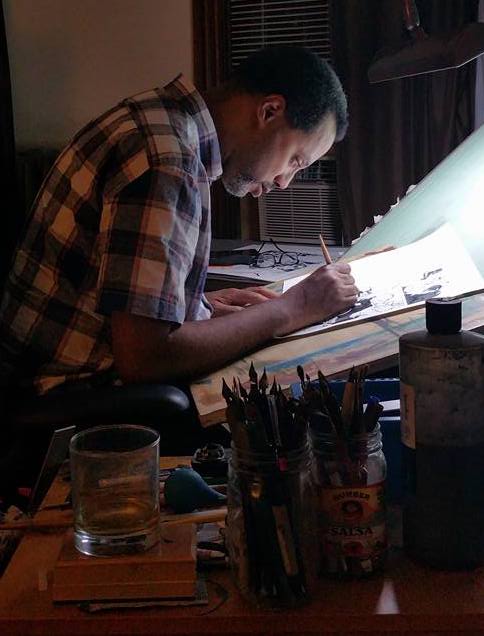 Your instructor
Marshall was published by Fantagraphics Books, SpiderBaby Graphix and FantaCo Enterprises. He is also a multiple participant of 24-Hour Comics Day. Through his one-man creative services company Marshall Art Studio, David provides web design + development, print design, illustration and overall content beautification.
David Marshall's formal teaching career began in 1995. In this capacity, his primary emphasis is clear content presentation, regardless of artistic media. Exercises for Art of the Comic Book leverage Mr. Marshall's vast knowledge of both traditional and digital tools for creating comic books. Classwork combines creative fundamentals (research, anatomy, perspective, composition, storytelling, etc.) with current production methods and business environment.
My Comics

Inky Stories is my collection of web comics of mostly short, self-contained stories. Genres include satire, horror, romance, sci-fi, and crime fiction. Learn more